Three Tales of Festive Rice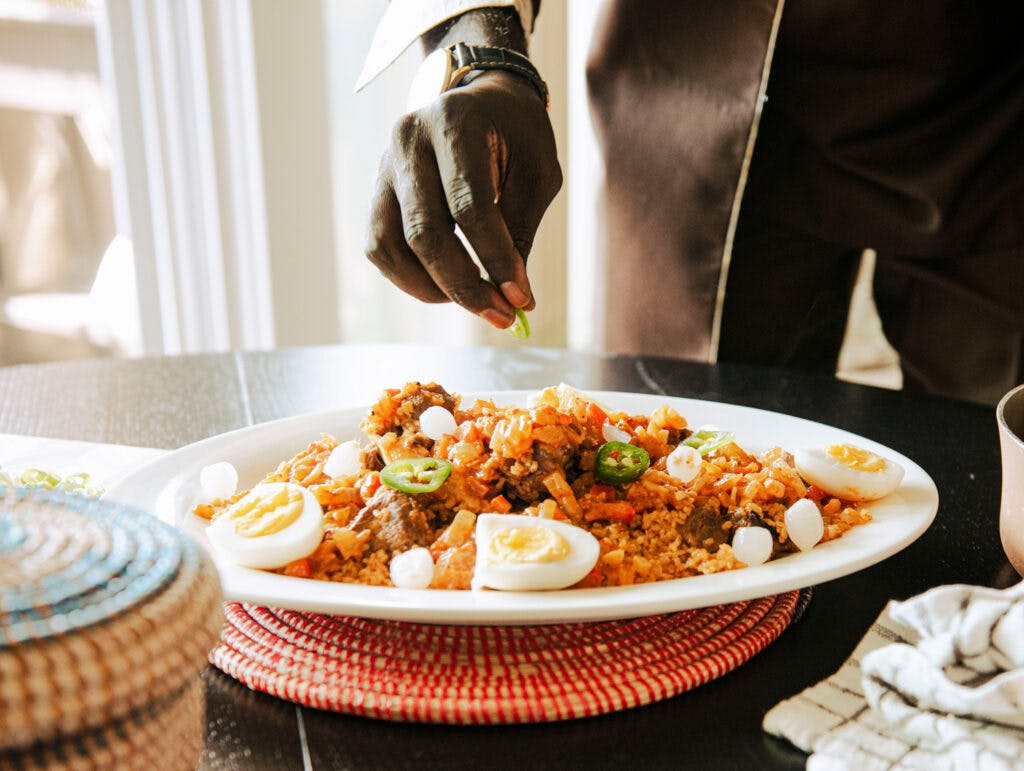 By Anna Mindess | Photos by Scott Peterson
Every day, more than three billion people around the globe eat rice as part of their daily meals. While many enjoy and even revere a plain bowl of rice, celebratory gatherings may call for something special. We found three East Bay cooks with fascinating stories that reveal ways they've carried forward family food traditions brought from other parts of the world, and we asked how they might make rice for a festive meal this season.
OUMAR DIOUF
Born in a small town in Senegal, Oumar Diouf found his love of cooking early. He was 13 when his father passed away, and he was concerned for his mother, who worked long hours at her clothing design and tailoring business to support six children. On a typical day, she would rise early for the two-mile walk to get the day's provisions—they had no refrigerator—and come home to cook a pot of jollof rice with fish before walking to work. She also walked home to feed her kids the midday meal. Diouf realized he could ease his mother's load by taking charge of the cooking, even though doing what was considered "women's work" got him bullied at school. Learning to cook from his mother meant he was able to bring lunch to her workplace as well as prepare food for his siblings. Even as he attended college and law school in Senegal, he remained interested in cooking. But his other love was soccer.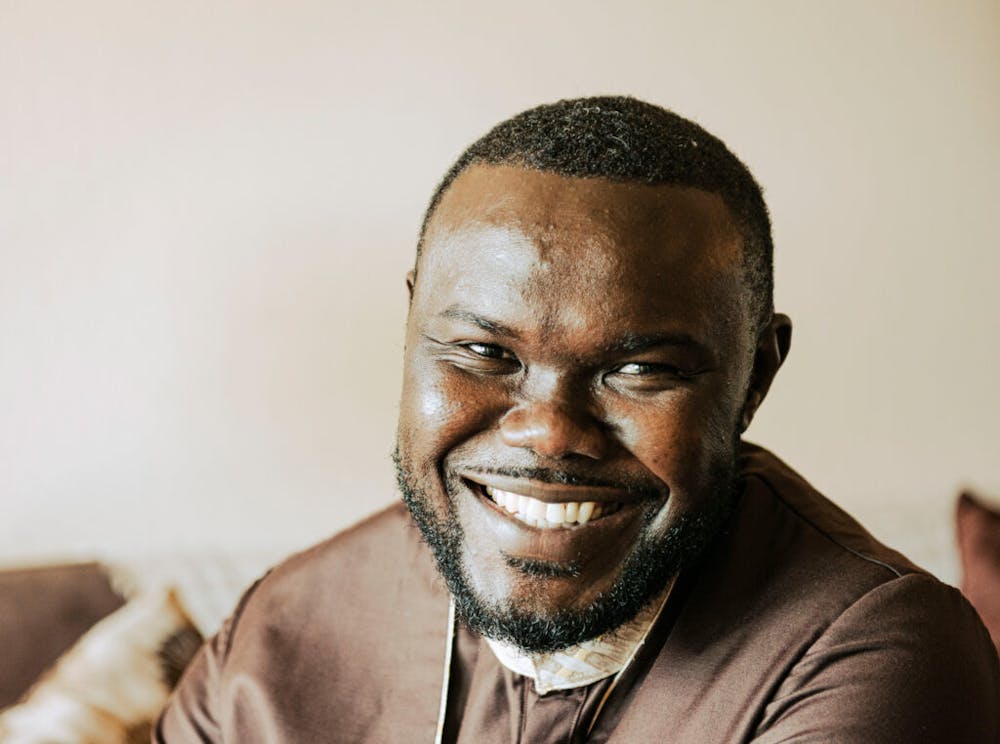 In his early 20s while playing soccer on Senegal's national team, Diouf was discovered by a scout from Argentina and was thrilled to travel to South America and send money back home to his family. When a broken leg and ankle halted his soccer career a year and a half later, Diouf, who had taught himself Spanish and enrolled in a Buenos Aires culinary school, happily transitioned to his second love. He opened his first little restaurant in Buenos Aires, making Argentinian empanadas with African seasonings, which 35 homesick Senegalese immigrants enjoyed for lunch every day. "People need to find their roots through food," says Diouf.
Later, while traveling in Brazil, Diouf recognized even more of the tastes of home in the local cuisine. It was a legacy of the 300 years during which enslaved Africans made their marks in Brazilian kitchens, just as they had in the United States. He moved to Brazil to study this African influence in Brazilian dishes, and after finding a job at a hotel, worked his way up from dishwasher to chef. Then he started a catering business in Florianópolis, a city in Brazil's South Region.
After cooking for the USA Men's Basketball team at the 2016 Olympics in Brazil, Diouf got an opportunity to move to California. Ever resourceful, he started a catering business, attracting his first customers while working as an Uber driver. (He handed out business cards to every rider he picked up.) Today, he celebrates Afro-Brazilian fusion at the Damel (1312 Broadway), his Oakland restaurant and food trucks, named with a Wolof word that means ruler or king. He serves vibrant street food–style dishes like those found in Senegal, Argentina, and Brazil. His version of his mother's jollof rice is always on the menu.
"In Senegal, 98% of people eat jollof rice every day for lunch, usually with fish. For a party, we would make it with lamb," he says.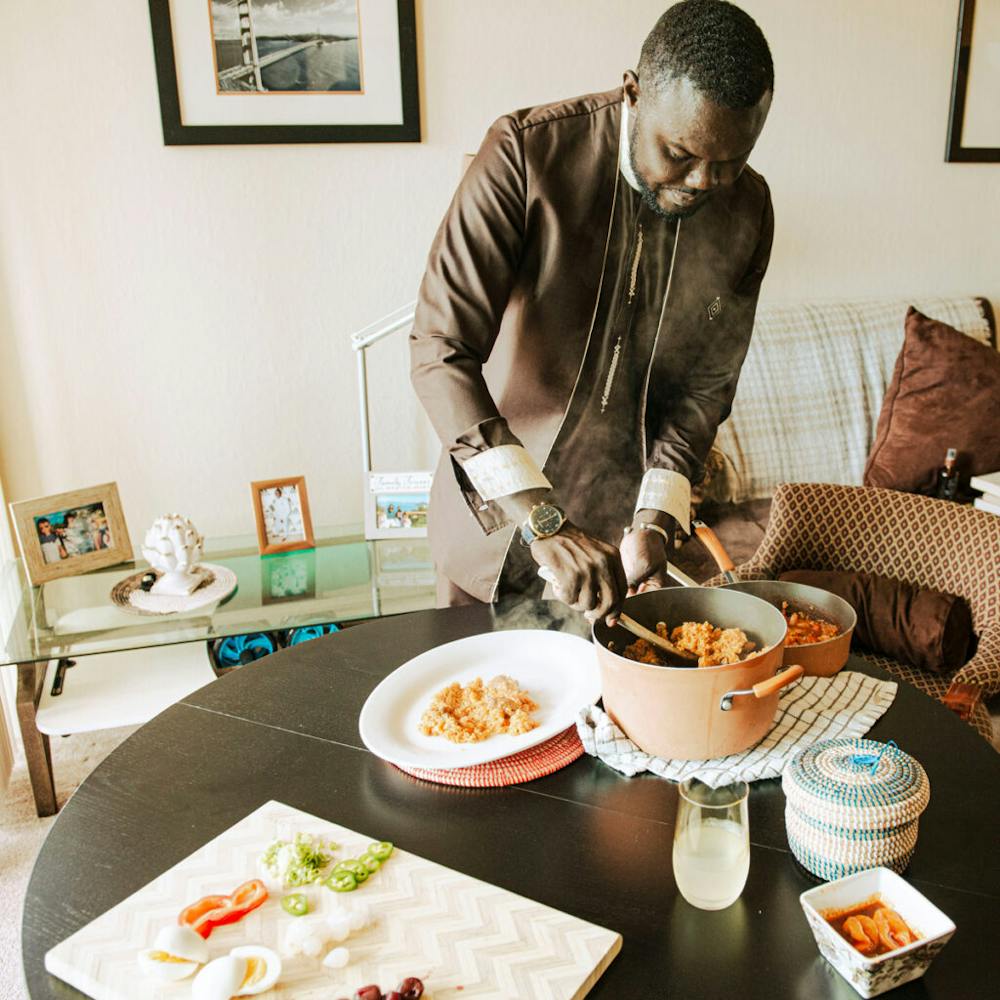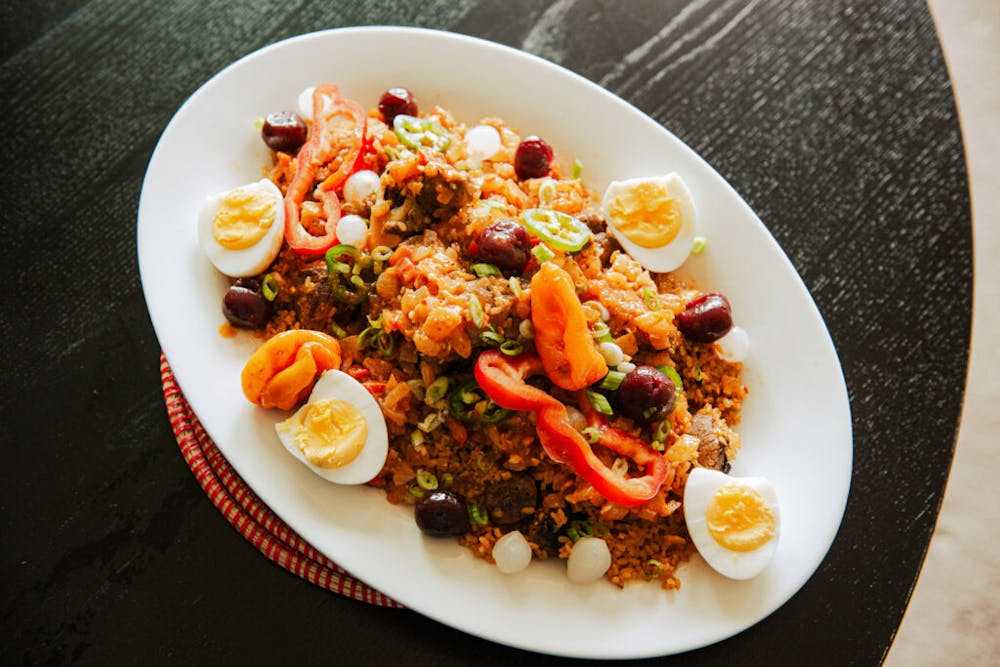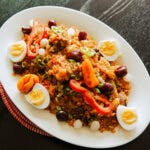 Oumar Diouf's Festive Jollof Rice
Author: Oumar Diouf
Yield: Serves 4 1x
PRINT RECIPE
Following Senegalese culinary tradition, Oumar Diouf uses broken rice, a grain that's deliberately broken during production. He says it turns out fluffier and absorbs more flavors in cooking. Broken rice is also found in cuisines across Southeast Asia, so any 99 Ranch or smaller shop selling Thai or Vietnamese ingredients should have it. Plain basmati or jasmine rice will work, too.
Ingredients
UNITS USMSCALE1x2x3x
2 cups broken rice (see headnote), soaked in water for at least 15 minutes
4 cups vegetable broth or water
1 pound lamb (leg or shoulder), cut into small chunks
6 cloves garlic, peeled and finely chopped, divided into 3 parts
Extra virgin olive oil
1/2 cup chopped shallot, divided
2 tablespoons tomato paste, divided
1 habanero pepper (left whole)
2 bay leaves
1 large white onion, diced
1 red pepper, chopped
1/2 green pepper, chopped
2 teaspoons white vinegar
Salt, black pepper, and crushed red pepper to taste
2 teaspoons Dijon mustard
Garnishes (optional): Sliced hard boiled eggs, cocktail onions, sliced scallions, pitted black olives, chopped parsley, sliced green and red peppers, or other colorful elements
Instructions
Partly pre-cook the soaked rice by steaming it in a sieve over the simmering vegetable broth or water, covered, for 10–15 minutes. (When rice is finished steaming, leave liquid simmering for use throughout dish preparation.) Alternately, cook soaked and drained rice in a glass bowl in the microwave. Cook for 2 minutes, then stir and add 3 tablespoons water, then steam in microwave for another 2 minutes.
Marinate lamb in a large pot with salt, pepper, and ⅓ of the chopped garlic for 10 minutes. Without adding any oil, turn on the heat under the pot, cover, and let the lamb steam in its own liquid until dry, 7–10 minutes.
Add 2–3 tablespoons olive oil to the saucepan with the lamb and brown the meat, about 5 minutes. Turn down the heat to medium and add ¼ cup chopped shallot and 1 tablespoon tomato paste. Cook, stirring, until tomato paste darkens, about 5 minutes.
Add 1 cup of the simmering water or broth to the lamb mixture along with the habanero, ⅓ of the chopped garlic, and the remaining ¼ cup chopped shallot. Cook for 5 minutes, remove habanero, and let cook for 10 minutes more, partly covered, until meat is tender. Add bay leaf, salt to taste, and another cup of the simmering water or broth along with the pre-steamed rice. Mix, cover, and cook on low heat for 30 minutes, adding more broth or water as needed.
For the sauce: In a medium bowl, combine diced onion, chopped red and green peppers, remaining chopped garlic, vinegar, ground black pepper, crushed red pepper flakes, remaining bay leaf, and Dijon mustard. Stir and let marinate for 10 minutes.
Heat 1 tablespoon oil in a skillet over high heat. Add chopped onion and red pepper mixture and make an open space in the center for the remaining 1 tablespoon tomato paste. Cook for 3–4 minutes, then stir tomato paste into the onion mixture along with any remaining simmering broth and cook on low heat for 15 minutes.
To serve: Pile lamb and rice on a serving plate, pour sauce over top, and decorate with the optional garnishes