Faces of Entrepreneurship: Chef Oumar Diouf, The Damel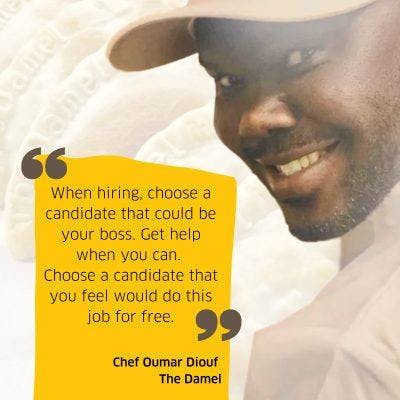 Chef Oumar Diouf was born and raised in Senegal. In 2006, after traveling to South America to pursue his dream of becoming an international soccer player, he found culinary school and decided to professionalize his cooking hobby. Two years later he opened his first restaurant in Argentina. Following a move to Brazil and learning more about the impact of African food on those countries, he led a kitchen team for more than 5,000 during the 2016 Olympic Games in Rio. Today he owns The Damel, Afro-Brazilian Cuisine, a quick service, take-out and delivery restaurant in Oakland, CA where a wide range of West African culinary traditions meet contemporary South American cuisine.
What does "entrepreneurship" mean to you?
OD: To me entrepreneurship is the capacity to identify a problem and an opportunity. The capacity to find solutions and improve the society by creating a business, project or an organization.
How did your company come to be?
OD: My concept came from the lack of representation of West African and South American food in the area I live. As an immigrant in three different countries before coming to the US, it's important to me to always find a way to rediscover my roots. As a Chef, I believe that food is the best way to keep in touch with my ancestors. When living in Brazil back in 2011, I tried a very popular street food called "Acaraje" and it reminded me the same street food I used to buy growing up in Senegal called "Akara". The similarity of the name, ingredients, flavors and cooking techniques makes me wanted to find out more about Brazilian food. The answer was of course "slavery". From that day, Afro-Brazilian Cuisine has become the restaurant concept I wanted to bring to the world.
How has your business changed in response to the COVID-19 pandemic?
OD: Before Covid-19, my goal was to prove the concept and learn the reaction of the American people about the food I have to offer. So, business was okay, not making money but gaining popularity and collecting feedback. The stay-home order obligated me to close the doors with no guarantee that it will open again. But as always, I was still with my positive spirit until May 8th when I decided to talk to my landlord and employees about permanently closing the doors and going back to commissary kitchen. Then I got an email from the City of Oakland. This was an opportunity for my restaurant to possibly provide 300 meals per day for hungry Oaklanders in partnership with World Central Kitchen. So far today, we are delivering on average 450 meals/day and I was able to move to a new/better location, keep all my employees and working on expansion. Covid-19 pushed me down as low as I had been in my life and lifted me up as high as I had ever been.
What is your proudest and darkest moment so far? Share a key high and a key low from your journey if you can.
OD: My proudest moment in my career is to lead the kitchen team during the 2016 Olympic Games that was in charge of making meals for five houses including the NBA team, the Australian team, New Balance, Casa Cartan and The Brazilian team. Our daily number of people to feed for breakfast, lunch and dinner was 5,000 when the competition started. My darkest moment beside the recent pandemic was having to let go my first restaurant and food truck in Argentina back in 2010 and moving to Brazil to start a new life with a different language and culture. Luckily, this became the best decision for my future.
How is your company changing the landscape?
OD: The goal for The Damel has always been to focus on what is today "a new normal" – a delivery/ pickup only restaurant. An online forward business. Starting off, we had to create shows and events in the restaurant in order to reach more people and get them motivated to come to us. Today, we are just refreshing our original business plan and making the model work.
What do you wish you knew when you started? Is there anything you would do differently?
OD: Accounting and Budgeting, I wish I knew accurately how much money things take to get done and to properly manage my book. I had overdraft fees in my business and personal bank account almost every week during the first six months of starting the business. I would definitely optimize the expenses and manage better the cash flow.
What advice/credo do you live by as you grow the business / what is your professional and personal mission statement?
OD: Always be positive, focus on thriving and not surviving. Our mission is to introduce global flavors to local people.
Where do you find inspiration when faced with challenges?
OD: From successful people with successful stories. First of all, my Mom. She had to face all kind of challenges raising six children without a dad, uncles or aunties. She hustled every day of her life to make sure she had educated and successful children. I decided to take over my part on my own at the age of 15 and nothing will stop me until I get her everything she ever dreamed about in her life. Second, entrepreneurs that started from zero and have built empires.
What does "success" look like for you? What do you think will help you achieve it?
OD: To me success is when I reach my life goals to be known as ambassador of the history of cross-pollination of cuisines, especially when it comes to Africa's influence on world cuisine. And also, to continue what I love and do it every day: help people to improve their life, especially African people. I believe that my business will help me achieve my goals little by little. I am able to make people try food that they might never have heard of nor had a chance to try before. Also, I started "The Damel Foundation", a non-profit organization where I have the goal to build parks for children in Africa, culinary/hospitality schools for teenagers, and modern home kitchens for stay-home-moms.
What's it like to work alone or with your partners? What advice do you have for fellow entrepreneurs about building and leading teams?
OD: Be a leader, don't always ask your team to do things but instead show them how to do things. When hiring, choose a candidate that could be your boss. Get help when you can. Choose a candidate that you feel would do this job for free.
Many entrepreneurs continue to perfect their daily routines to support their work and greater vision; would you mind sharing your morning routine or a regular ritual that grounds your work each day? How has it changed in recent months?
OD: I would say that 90% of my daily routine is related to my business until I get the stability I need. I never go to bed before making sure I got my goals done for the day.
What keeps you motivated during this time?
OD: Knowing that there is a lot of people in worse situations than mine make me want to do more every day and make sure my efforts help someone in those situations get resources they need.
What kind of an entrepreneur do you want to be known as, as in, what do you want your legacy to be?
OD: An entrepreneur that came from a rural area in one of the poorest countries in this world and was able to not only create jobs in US as a recent immigrant but also giving back to the people I left home. I want to make money and change lives. I want to be remembered as someone that has always been serving others, either for profit or for non-profit.
What is a quote or some words of wisdom that help get you through the tough days?
OD: "Follow my heart, remember where I came from and what I have been through, stay spiritual!"