Bay Area Afro-Brazilian Catering Company, The Damel, Opens A Restaurant in Oakland's Uptown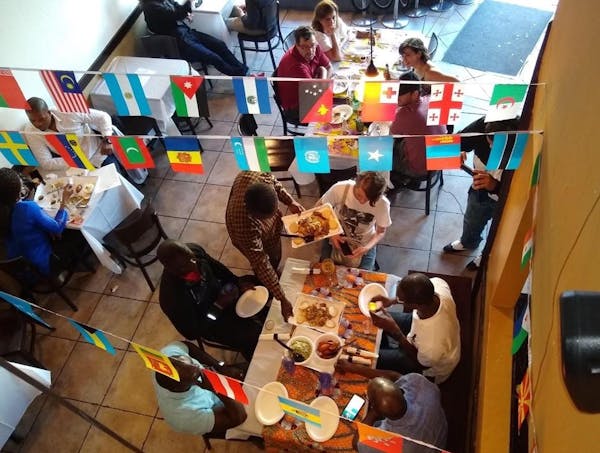 By Justin Phillips (SF Chronicle)
Oakland, CA – Residents of Oakland can now experience the tastes of Brazil, Senegal & Argentina all in one evening. Chef Oumar and his Afro-Brazilian catering company just opened The Damel, a quick service restaurant serving Empanadas & More in the Uptown neighborhood on June 22nd at 2507 Broadway.
Specialties include 20 different kinds of Argentinian empanadas, (halal meat, vegetarian & sweet), Brazilian acaraje, tapioca puffs & coxinha, Senegalese dibi lamb, chicken & fish to name a few.
Located inside long time business, 25th Street Taproom, The Damel is the perfect location for sporting, music & other events.
Target markets include late night food on Friday & Saturday (serving until 2am) and food to-go as well as business lunch groups during the week for parties of 10 or more.
Online review from Maya R.: "The restaurant is located inside the Taproom and Bar on Broadway in Oakland, Ca. We decided on this place to watch game three of the Warriors Finals. I'm a pescatarian and was able to find a mushroom and cheese empanada and a spinach onion and pepper empanada both very delicious. The show stopper for me were the plantain, sweet and not oily. Only open four days at this location The Damel has a very promising future. The staff was very helpful, friendly, and attentive. I will bring friends back next time and would like to try the shrimp empanada. So hungry unable to take pictures"
Chef Oumar was born and raised in Senegal, Africa. The word "Damel" comes from the kingdom of Cajor in Senegal and is a Wolof word meaning "ruler". Aside from his native language of Wolof, Chef Oumar is also fluent in French, English, Spanish and Portuguese. At age 13 after the passing of his father, Oumar began his passion in the kitchen by assisting his Mom in cooking for a family of 7. In 2006 a soccer career took him to Buenos Aires, Argentina where he eventually enrolled in culinary school taking his hobby to the next level. He opened a restaurant in Argentina and ran a food truck before moving to Brazil after noticing the impact African culture has had on the South American country. His stay in Brazil was highlighted by his time as a chef during the 2016 Rio Olympics, in which he cooked for as many as five thousand at a time.
His culinary journey led him to the San Francisco Bay Area where he established a catering service specializing in traditional Afro-Brazilian, Argentinian & Senegalese dishes for events of all sizes.