Empanadas are getting spins across the Bay Area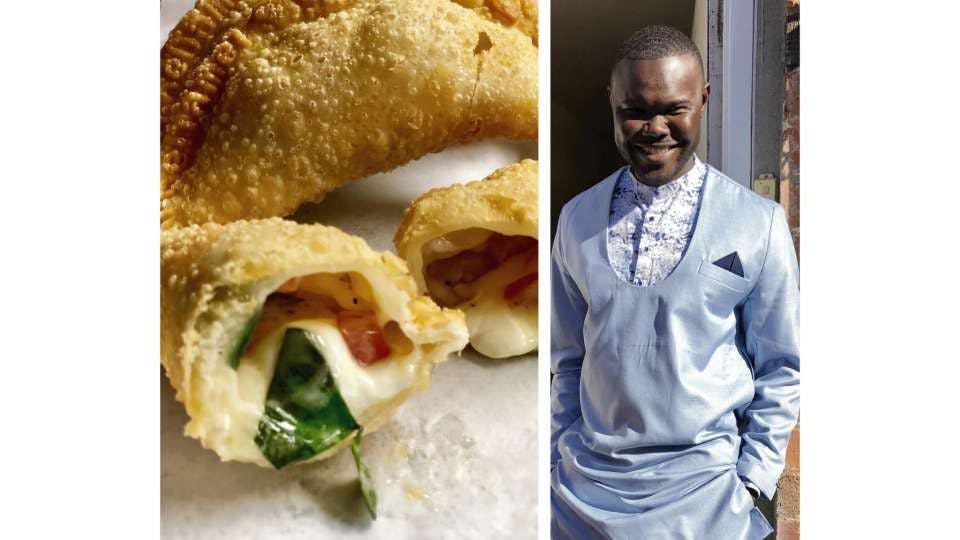 By Flora Tsapovsky | Photography by Stephen Lam | Feb. 17, 2021
Here are 5 restaurants making their own versions of the handheld pockets from Spain to Senegal
The pandemic has proved what we knew all along — that hand-held carbs are apparently bullet-proof financially. While pizza, along with bagels and many sweet pastries, ruled 2020, this year is shaping up to be an especially exciting time for the Bay Area empanada. The half-moon (sometimes round or square) pastry has been long-present in the region, thanks to establishments like El Sur, Venga and El Porteño. Now, a number of new local restaurants are putting their spin on the multicultural, endlessly riffable stuffed pocket.
The timing makes perfect sense; as much of the restaurant experience moved to takeout and outdoor picnics, empanadas offer both an affordable to-go option and an easy, utensil-free dining experience. "They pack a lot of flavor in a relatively clean, handheld format," said chef Adam Rosenblum, the man behind the new North Beach takeout spot Little Red Window.
Empanada takes its name from the Spanish verb empanar, which means either to coat in breadcrumbs (from the word "pan," or bread) or cover in pastry. In the culinary archives since approximately 1520, the empanada originated on the Iberian Peninsula, possibly shaped by the Moorish invasion and influences of the samosa. Spanish colonists took it to the Caribbean and South and Central America; it was reborn in different countries with new twists to the dough and filling.
Deep-fried or baked, buttery and flaky or crumbly and light, the following newcomers to the local empanada scene offer a delicious, dazzling variety.
1
Little Red Window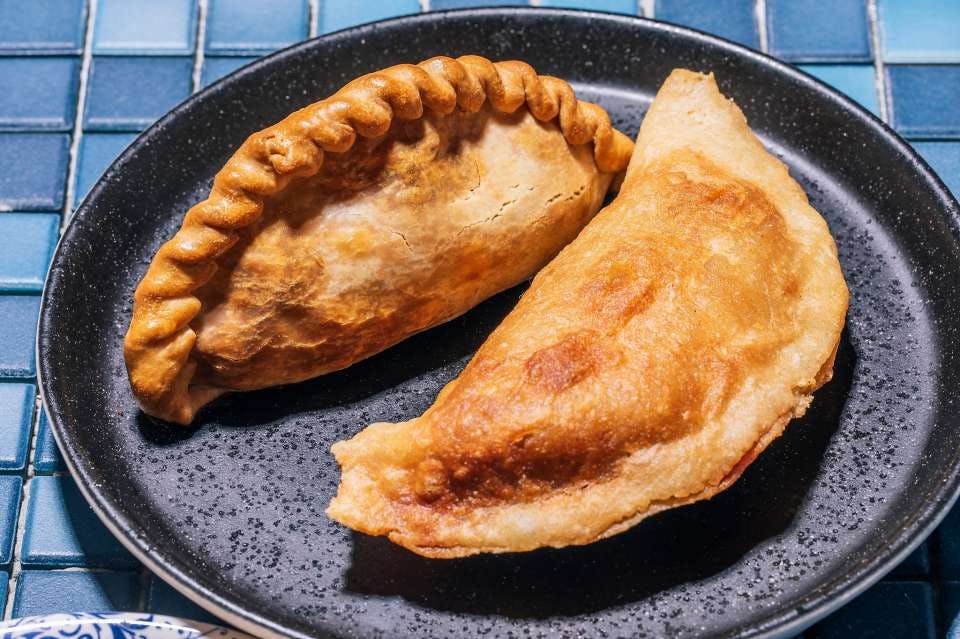 Photo by Stephen Lam / The Chronicle
EMPANADA STYLE
Argentinian, Mexican and Spanish
ADDRESS
500 Columbus Ave., San Francisco.
PRICE
$6 each
In the beginning of 2020, Causwells chef Adam Rosenblum went to Spain to do some exploration for Red Window, an upcoming tapas bar. Instead, due to COVID-19, Rosenblum pivoted the business to Little Red Window, a takeaway concept of empanadas and cocktails that opened in North Beach in January. On the menu, empanadas are divided by countries of inspiration — Rosenblum poured some research into the different doughs, sauces and fillings representative of Mexico, Spain and Argentina.
The Spanish and Argentine versions are baked and made with white wheat flour. "The Argentinian dough is a little flakier, since we're using a different folding technique," he says. The Mexican option is fried and made from corn masa. "The twists are subtle, we're trying to have fun with the concept but keep the recipes authentic," Rosenblum says. The Mexican bean empanada, flavored with jalapeño and rosemary, and the Spanish braised pork version are especially popular. On sunny days, customers can often be seen in nearby Washington Square having picnics centered on takeout boxes from the shop.
Find out more at theredwindow.com.
2
Chao Pescao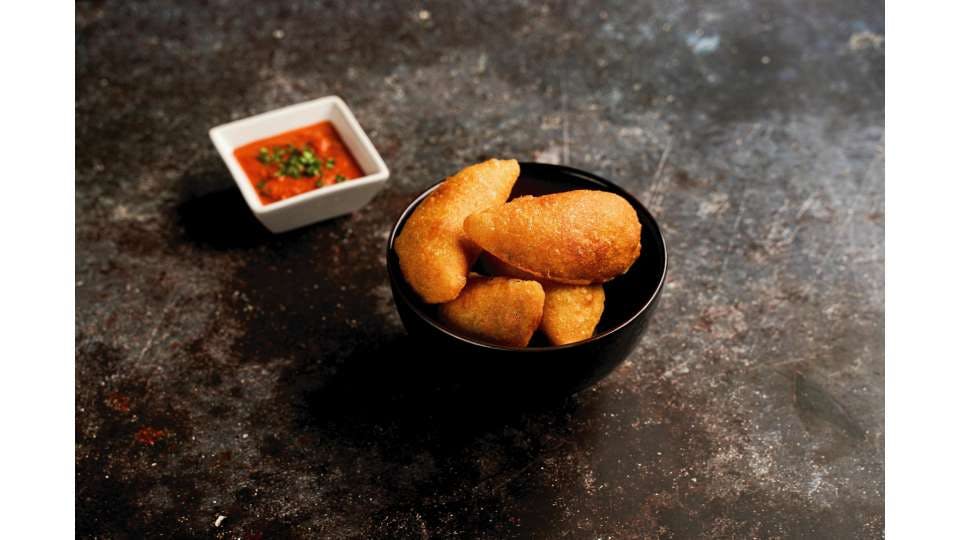 Empanadas Vallunas. Photo by Barbara Ve
EMPANADA STYLE
Colombian
ADDRESS
272 McAllister St., San Francisco
PRICE
$4.50 for one or $12 for 3 ($11 for vegetarian)
Hidden in the former Soluna Cafe & Lounge space across the street from Civic Center, Chao Pescao is a new pick-up and delivery concept from chef Rene Denis, the owner of Soluna, who decided to switch gears right as 2020 ended. Dedicated to Latin American flavors with Cuban-Colombian touches courtesy of Denis' upbringing, Chao Pescao sells Empanadas Vallunas, a fried Colombian take on the half moon-shaped treat. "If we were lucky, my abuela would make them from scratch," Denis says. "We make our empanadas just like she did."
The bright-yellow masa dough, expertly crisped on the outside, is substantial and mildly flavored, wrapping three types of fillings: shredded flank steak; Cuban lechon (pork) with plantains and black beans; and a vegetarian option made with sweet potato, garbanzo beans, tomato and kale. The shredded flank steak filling is an especially good match for the cozy wrap; when doused with the herbaceous chimichurri, it makes for a lunch both comforting and exciting.
Find out more at chaopescaosf.com.
3
The Damel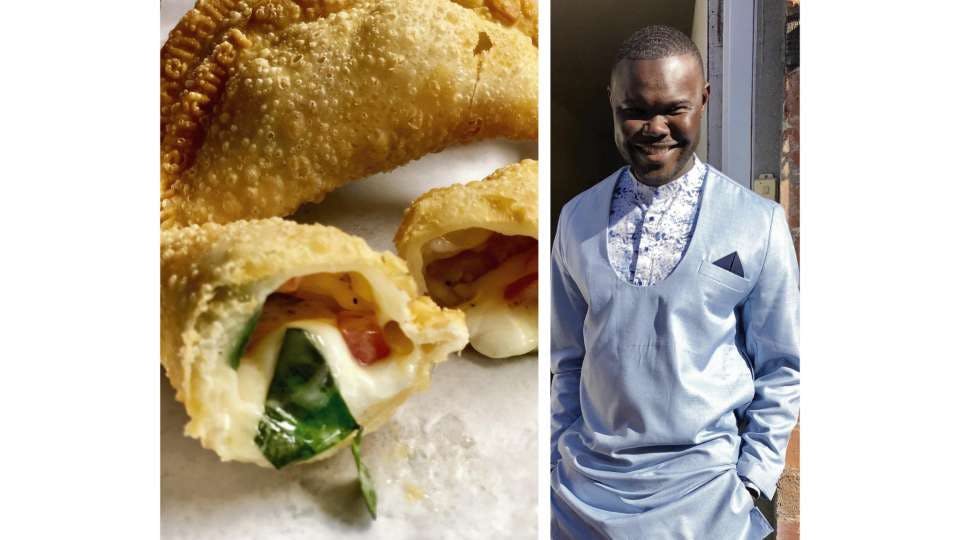 Left: An empanada from the Damel. Right: Chef-owner Oumar Diouf. Photos courtesy the Damel
EMPANADA STYLE
Senegalese
ADDRESS
1312 Broadway, Oakland (restaurant) and
3220 Lakeshore Ave., Oakland (food truck)
PRICE
$4-$5
On the Bay Area catering scene since 2017, the Damel opened as an Oakland restaurant in 2019, adding a Lake Merritt food truck in the summer of 2020. True to its mix of Argentine, Senegalese and Brazilian cuisines — chef-owner Oumar Diouf was born in Senegal, played professional soccer in Argentina and worked as a chef in Brazil — the Damel's empanadas are a hodgepodge of influences, with 14 flavors at the restaurant, seven at the food truck. Some are meant for dessert, like the sweet corn with mascarpone, or the banana and Nutella.
The empanadas are made with dough imported frozen from Argentina, and all are baked except the Fataya, a deep-fried empanada that is the most indicative of Damel's international premise. "It's one of the most popular street foods in Senegal," says Diouf. "My mom herself used to sell them on the sidewalk of my house." Crispy and stuffed with a piquant mix of tuna, shrimp, garlic, pepper, onion and tomato, it has the perfect filling-to-dough ratio and a satisfying crunchy-saucy contrast.
Find out more at thedamel.com
4
Sobre Mesa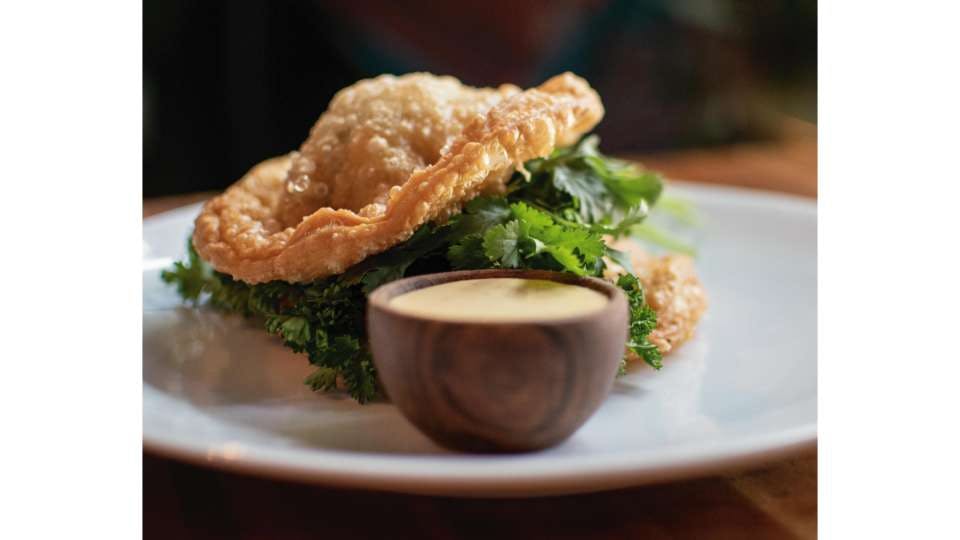 The steak and cheese emplanada at Sobre Mesa. Photo by Dana Plucinski
EMPANADA STYLE
Dominican
ADDRESS
100 Grand Ave. #111, Oakland
PRICE
$36 for a half-dozen or $70 for a dozen
This cocktail lounge opened in Oakland in March 2020, shortly before shelter in place was announced, then briefly reopened in November only to shut again. Currently running as a takeout and delivery model out of chef-owner Nelson German's second business, AlaMar restaurant in Oakland, Sobre Mesa is offering Dominican-style empanadas. They're fried, rounder and slightly larger than average, with a lighter, thinner, flakier dough. The secret to the delicate dough, German says, "is being gentle, almost like making pasta, adding hot water and using just the egg white instead of a whole egg."
The steak and cheese filling is reminiscent of a childhood delicacy German grew up eating: a pastelito (a filled pastry similar to the empanada) for Christmas with queso de freir (a style of Dominican cheese, with the texture of haloumi and the flavor of cheddar) and ground beef. The beef he uses in the filling, however, is flank steak spiced with both an African suya blend, a spice mix featuring roasted peanuts, ginger, garlic and allspice, and a Dominican blend of paprika, dried lemon, cayenne, oregano, achiote pepper and dried cilantro.
As for the round shape? "A superstition my mom and grandma used to say is that it's luckier to eat the whole moon rather than a half," German says with a laugh.
Find out more at sobremesaoak.com.
5
Jaranita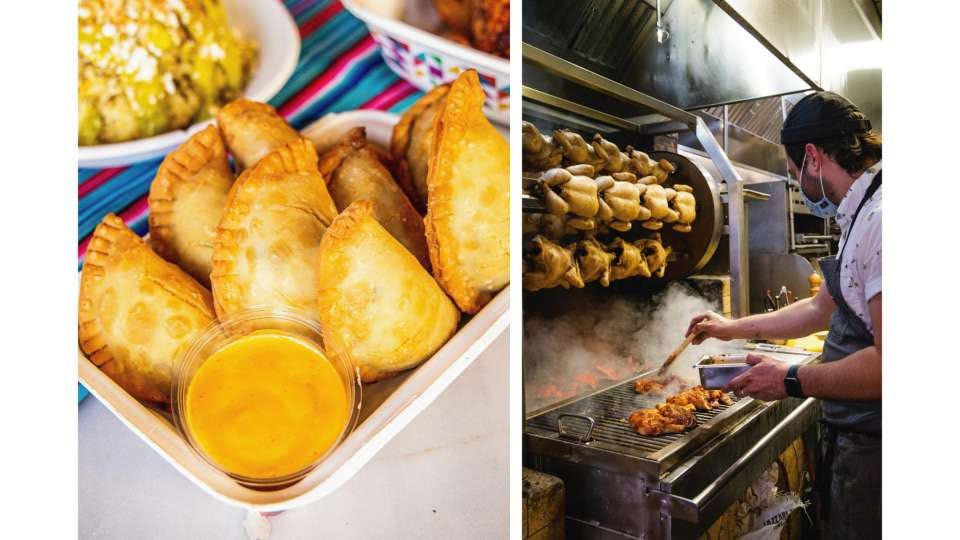 Jaranita features a wood-fired rotisserie (right) and empanadas on its menu. Photos by Hockeystick Media
EMPANADA STYLE
Peruvian
ADDRESS
3340 Steiner St., San Francisco
PRICE
$4 each
At the brand-new Marina restaurant from the La Mar Cebicheria Peruana restaurant group, Javier Cussato is cooking Peruvian dishes with the help of a wood-fired rotisserie. A portion of the menu is dedicated to empanadas with Peruvian fillings and traditional sauces. The beef empanada is filled with lomo saltado (a beef stir-fry with onions, tomatoes, green onions and soy sauce), served with huacatay, a Peruvian black mint cream sauce. The restaurant's star dish, the rotisserie chicken, roasted in garlic, ginger and Peruvian panca pepper, goes into the chicken version; it's served with a polleria sauce, an aji amarillo, jalapeño and mayo mix typical to Peruvian rotisseries. Finally, the veggie empanada is filled with Peruvian corn, leeks, chard and cheese, and served with Jaranita dressing — a fresh mix of cumin, oregano, lime juice and mayo.
"In Peru, I'd have an empanada every other day," says Cussato, former La Mar sous chef. "Most Peruvian restaurants in the Bay Area are chicken or seafood focused, and here we want to incorporate popular street foods that people eat and sell on the street regularly."
Find out more at jaranitasf.com.